My son George has been living in Germany for more than 20 years and is active as a music educator and administrator. Currently he is actively working on Expo2000 to be held in Hannover, Germany, in, you guessed it, the year 2000! His project is called Kulturkaleidoskop (Culture-Kaleidoscope). His wife, Gudrun, plays and teaches playing on the flute, in Hannover and also at the University level in Osnabrück.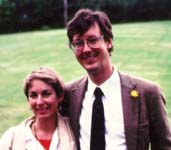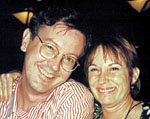 My son Glen also has a web site. He is extremely expert in computer technology and has greatly helped Geo. Alan and me in our computer pursuits. On his page he shows and tells a lot about his Dog Frisbee hobby. Glen lives in the Boston area, and his wife, Linda Lawless, is a psychotherapist and book author who also has web pages.

My son Greg is a Mechanical Engineer and lives in the Manhattan part of New York City, N.Y., where he has his own business making prototypes. His wife is Tricia Barish.